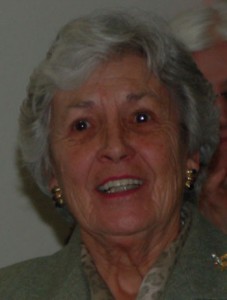 Olivia Reed came to Rockbridge Area Hospice (RAH) as a volunteer in 2004, impressed with the hospice care her mother received the year before in Alabama. She welcomed callers and visitors to the Hospice office in her role as a receptionist, she solicited gifts and donations from Lexington area businesses in support of the Hospice Hustle and RAH Golf Classic, two annual RAH fund-raisers, as well as serving as a patient caregiver. She donated well over 2,330 hours of volunteer time in her four-year service to Hospice and was recognized as the 2008 Hospice Hero.
"Many in the area knew Olivia as that 'gracious lady from Hospice.' We were so grateful for the support and enthusiasm that she brought to the Hospice mission. She was a true joy to work with," said Judy Mauck, RAH executive director. As a volunteer caregiver she was known to succeed in delivering compassionate care to even the most reluctant of patients, and was described by patients as warm, comforting, a jewel, and someone who brought 'sunshine' to their days," adds Mauck.
"My mom became a Hospice Patient in the last weeks of her life and I know their compassion and caring made those weeks much easier for her as well as for us (her family). I knew they were doing everything they could to make her physically and emotionally comfortable." said her daughter.
The Reeds were long-time friends of the Virginia Horse Center Foundation and its staff. Mrs. Reed volunteered at the Virginia Horse Center giving out ribbons and working hospitality. She always arrived with a smile on her face and left, after hours of work, with that same delightful smile. She occasionally stopped in with a cake and a kind word. Her passion was always evident and her zest for life more so. She often came to see her granddaughter ride in the Hear the Beat, Hoofbeats Fundraiser horse shows and always stopped to say "hello" with her usual smile and grace.
"Olivia was one of the most truly gracious, kind and giving women I have ever had the privilege of knowing. Olivia was one of the rare people that I have met in my life where I thought "that is what I want to be when I grow up" said Deborah Work of the Virginia Horse Center.
Mrs. Reed also had a passion for her church. She was generous in leaving funds to the United Methodist Church in her hometown, Town Creek, Alabama as well as her current church, St. John's Episcopal Church in Glasgow. The Reed's began attending St. John's when they moved to Rockbridge County in 1997. In addition to being active members at St. John's, Mrs. Reed used her talent for decorating to brighten up several of the rooms at the church.