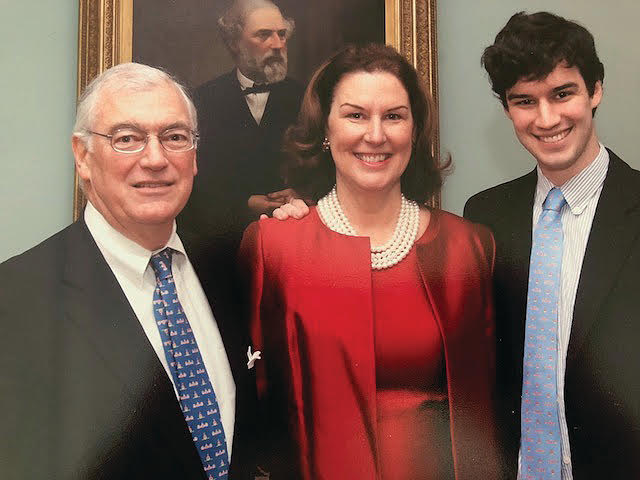 The Grigsby Family Fund was established with the Community Foundation of Rockbridge, Bath & Allegheny ('CFRBA') in 2015 by Ben and Carol Grigsby as an effective and efficient means to support in perpetuity some of the family's local philanthropic interests. The Fund, which receives periodic contributions from the family, is structured as a donor advised fund, allowing the family to nominate annually various non-profit organizations as beneficiaries of that year's Fund distributions by the CFRBA.
While the Grigsby family's roots in Rockbridge County go back to the 1700's, beginning shortly after their respective graduations from Washington & Lee and the University of Virginia in the 1970's, Ben and Carol, and later with son John, have for over four decades regularly visited, invested, and lived in Lexington, Rockbridge & neighboring counties to enjoy the pastoral beauty, the cordiality of its people, and the richness of the community's intellectual, cultural and social benefits. Ben and Carol first bought property in Lexington/ Rockbridge in the 1980's, as part of a long term plan, in keeping with careers that included 20 years overseas.
More recently, 10 years ago, the family returned to LexRock as permanent residents, with son John graduating from W&L in 2012.
Philanthropy has always been an important part of the family's DNA, and their personal financial planning. Indeed, the family motto is "Lux, Labor, Liberalitas" loosely translated as "Learn, Earn, Return", which provides an inspiration and framework for involvement with local community charities.
By example, while living in England, where the philosophy of hospice was born, Carol, an R.N. by training, became active in Britain's Princess Alice Hospice organization, and has transferred that enthusiasm to our local non-profit Rockbridge Area Hospice ('RAH'). She currently serves as its President of the Board, and will complete her second term next year. The Fund's support for RAH underscores the family's belief in the exceptionally humanistic work of Hospice. Carol also currently serves as the Grants Committee Chairman of the Community Foundation for Rockbridge, Bath and Allegheny, and is a dedicated volunteer and fund-raiser for the 'Roots & Shoots' elementary learning program at Waddell School.
In addition to other charitable Foundation and Museum boards, Ben has served on Washington & Lee's Board of Trustees, and the family have included W&L's 'Friends of Rockbridge' initiatives (including Campus Kitchen) as a significant part of their support to the University, underscoring a deep commitment to educational opportunities as an influence on young citizens giving back to their communities. Ben also serves as a founding Board member of the Lexington Police Foundation ('LPF'), reflecting the family's belief that a healthy, civil and safe community is the result of an engaged and appreciative citizenry, one that, among other things, demonstrably supports our first responders. The Grigsby Family Fund's support for the Lexington Police Department via the LPF helps our serving men and women with various non-Citybudgetary items, notably including tuition subsidies.
The compelling attraction for the Grigsby family of this special organization – our Community Foundation – is that the funds invested with CFRBA will grow and continue in perpetuity, under professional administration and investment management, which allows the Grigsby family to have a positive impact within this truly special community now, but importantly, also leaving a legacy of future community support for generations to come.