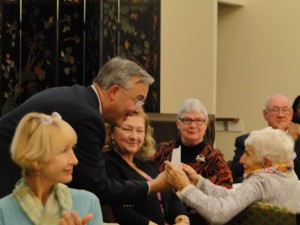 A fund within the community foundation can simplify your charitable giving and make the results of that giving more effective and satisfying. Here are some of the hallmarks of such a fund:
Convenience
A fund can be established with a simple agreement that typically requires less than an hour to prepare, and we will guide you carefully through the process. Giving should warm your heart, not burden you with ongoing administrative details, so we handle all of the that for you.
Flexibility
We take pride in our ability to customize services to meet your charitable objectives. You may establish a fund that supports charitable organizations or programs that you care about, or the community's greatest areas of need, or a broad field of interest. You may also contribute to an existing fund or make an unrestricted gift that our Board of Directors will put to good use in the community.
Permanance
An important part of our mission is to provide long-term stewardship and to see that your charitable intent is carried out over the generations.
Recognition or Anonymity
By establishing a permanent, named fund within the Foundation, a Fund can perpetuate a family name as part of the philanthropic community, or it can be Anonymous.
Cost Effectiveness
The Foundation holds many funds and gains significant economies of scale. The Foundation spends less than two cents on the dollar for total administration and investment of its funds.
Professional Investment Management
Foundation assets are commingled for investment purposes, but each Fund is tracked separately. Each permanent fund enjoys the benefits of being part of a large, professionally managed, diversified portfolio. The Foundation has a board-approved, prudent investment policy and has both an internal investment committee and an external consultant to regularly review performance results.
Tax Advantages
Donors to the Foundation receive the maximum tax advantages available by law for gifts to public charities.
Effective Community Impact
We are dedicated to ensuring that your charitable giving is as effective as possible. Our experienced staff works in partnership with nonprofits, professional organizations, corporations, and individuals to achieve shared community goals, to find solutions, and to maximize grant-making effectiveness. The Foundation can help donors target their dollars toward projects that will meet the community's most pressing needs and promising opportunities for long-term community benefit.