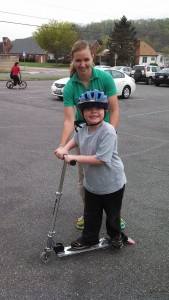 Determining where one's charitable assets can have the most direct – and lasting – impact can often be a frustrating and time consuming process. That is why tens of thousands of donors across the country annually choose their local community foundation as their preferred vehicle for philanthropy. Each year billions in new gifts flow into the 700+ U.S. community foundations, taking their collective holdings to over $40 billion.
Community foundations began in 1914 and are publicly-supported, 501(c)(3) philanthropic organizations that hold, administer, invest and make grants from both endowed and non-endowed funds established by individuals, families and others. They are simple, flexible, convenient, tax-wise, cost-effective vehicles through which donors can give back to their home community in perpetuity.
After almost 10 years of operating as an Advisory Board for the Rockbridge Area Community Foundation, the Community Foundation of Rockbridge, Bath and Alleghany has been formed.  As an independent, local community foundation, CFRBA will provide substantial benefits to our communities and to our donors.  Having gained valuable experience in managing a community foundation and in growing our endowed funds over the last decade, we have now become an independent non-profit with the goal of improving the quality of life in our local communities.  We will focus exclusively on serving the needs of those in Rockbridge, Bath and Alleghany Counties and the cities of Lexington, Buena Vista, and Covington.
The Foundation can tailor a Fund in virtually any fashion to meet your charitable objectives. You can rely on the Foundation to make the grant selections each year, or you and your family can be active partners in the grant-making process by serving as Fund advisors.
Endowment Fund grants are made in perpetuity from annual earnings, with an emphasis on preserving and growing the value of the principal over time. Each year the Foundation award grants to address important needs and opportunities in health, education, social services, the arts, environment and much more.
Funds can be created in minutes with a simple agreement, with no set-up costs. Thereafter, there is a modest annual unrestricted assessment of 1% of the Fund's average market value. Investment management costs are approximately one-tenth of 1% annually and are netted from the Fund's performance. As a public charity, the Foundation receives the very most favorable treatment allowed under current tax law.